My only uncertainty is: was it my behavior that changed me from a diamond into a stop sign or is it the perspective of those around me? Perhaps it is a combination of the two, but I remember trying to maintain a positive outlook towards most things. I have often seen that I view life as an adventure and I can stay optimistic until I am overly mistreated. Perhaps I have become so empty from not refilling my well as I empty it out toward helping others that I feel only used up at this point. Really I only want my inspiration and motivation to return enough that I can again be productive for the fall semester. It seems amazing to me that anyone can continually return to the same vessel for water and never consider that it might need to be refilled.

One last unrelated thing, you know how the glaciers are melting in Greenland and Antarctica and all the scientist are freaking out? Well maybe this is one of those things that isn't so bad as we think. Where else are we going to get more fresh water, I mean I know we are losing coral beds and all of that from desalinization of the oceans, but we don't know all that the earth has endured in the years before we humans were around, so things happened that we have no record of and even though we are really messing up this place, maybe getting some more fresh water from our glaciers isn't the worst thing. So far as we respond appropriately, we'll be okay. I'm not saying some changes won't need to happen, many coastal cities may need to relocate and so one, but maybe it's not the end of the world they think it is.
Yes it has been truly forever since I've posted to this blog. Life has been busy. As for now, I've simply had an epiphany. I've always thought analytically just to sort things out in my head. I've always told myself, try to be a diamond so that I'm not "two-faced" but multi-faceted, meaning I can be who I need to be for whomever may need me at the time without changing the core of who I am. I've always liked the diamond analogy because I could encourage myself by saying things like, "the more people cut me down, the brighter I will shine" or "I can take a lot of pressure and heat and it creates a better me". But now I am seeing that I just wanted to be needed. I am needed, but I am not a diamond, I am a stop sign. I am flat and common and those who are closest to me are tired of me. I am appreciated by very few and some even hate me. There are some who ignore me and my useful warning completely even though they know it is risky. I am used as much as useful and because so many know I'm there it is much easier to be irritated by my presence than grateful, just like a stop sign.
While sitting here waiting for Lancer to get off work, I thought I would spend the time reviewing the good things. This reminded me of one of my past entries where I mentioned one of my best friends and all of the Good times.Since then I am happy to note that she has in fact come back! Yay! She returned in December- Just when I needed her most. This string of thoughts has led me to the realization of what wonderful friends I have. I really am blessed to have the friends I do. So, in no particular order, I'd like to highlight and say thank you to each of them, I hope in my exhaustion I don't forget anybody. Beginning with Kris, Thank you for coming back! And for coming to "scrapbook" every Saturday when that really means wrangling my kids so I can get some work done on a project. Thank you for tolerating me and all of my insanity. I know you think I am crazy, you are right, but I feel so blessed that I never have to rationalize anything to you, you just love me anyway. Next, Kristi, though we talk mostly via Facebook, you are such an encouragement to me, you remind me of the importance of family even when my family doesn't care, you love me like a sister more than my own sisters, except Belynda, and you have the biggest, most forgiving heart. I always feel loved and welcomed by your family and you know I am crazy too. Thank you for your love and encouragement! Next, Michelle, common thread, I should stop saying this, but thank you for tolerating my insanity. Thank you for the times my kids show up at your house and you just let them in, thinking- the more the merrier. Thank you for supporting my education and my mistakes and walking through life's tough spots with me. Thank you for being a role model for how to be a good mom to a teenage daughter and only go a little crazier along the way. It would take me years to mention all you do for me. Thank you so much! And thank you for forgiving me when I should have helped you more but my excuse was exhaustion. I am sorry for those times. I need to include Typhanie in here as well though it has almost been a year since I have seen her. She was always so helpful with the kids, she could always tell when I needed a Mom's night out, and she always knew the right thing to say in "just chats" to cheer me up. I don't know how I would have made it the first two years of school without her, now that she's moved I miss her so much and can only wish her the best wherever she is. Next Martha Zirker, what can I say! How many times can you save my life? And how many do you actually know about? Thank you for remembering the kids' birthdays as if they were your own, that means so much to them, thank you for everything last December, wow, and just letting me talk when I got home, between you and Michelle, it was the only reason our kids had Christmas, thank you so much! When I think of you, it reminds me of fresh bread from the oven, sounds funny huh, but it's one of those "feels like home, happy memories" that just makes me happy. Thanks for being that sort of person, and for once again forgiving me for the stupid times.I know I'm forgetting someone, but my very best friend is Lancer, yes, he irritates the tar out of me sometimes, and if he reads this he'll get a big head, but I really am lucky to have a guy who supports me so much in letting me do whatever I want. He lets me chase my dreams, he lets me be moody, he doesn't tell me what I can or can't do or what I have to believe, he really let's me be genuinely me and for that you'd think I could be a lot better to him, I am working on it, but he taught me how to tease people and now it is really fun to pick on him. With that, I have been wondering why I am blessed with these wonderful friends, since I haven't exactly been one myself. For all of my peaceful, green, lion&lamb, zen-like thinking, I've really been a basket case as of late. I suppose it is my turn in the fire, but it is only because of my dear friends that I am holding it all together. Sometimes when Chloe gets whiny, I'll have her do a list of things she is grateful for, opportunity is always one I have her place near the top, from that, so many things can happen, I am glad for the opportunities I have had to meet each one of you and that those chance meetings have given me the results of ending up with some very choice friends.

Being the Mommy of two little boys, I always knew someday I would find a snake somewhere. I thought it would be in a jeans pocket or something while doing laundry, but this evening Dalton just kept pestering me while I was doing homework that he had something really important to tell me but that he didn't want me to be mad. Finally I said " Ok, let's say that I'm already mad, will that help you tell me?" So he said that he "sort of captured a couple snakes". He was saving them from Dobby, our cat, who of course eats garden snakes instead of mice. He said the were really small and it wasn't a big deal and took off. So then I'm going, wait, where are they? He sheepishly returns to quickly blurt out- on my bed, bye! Of course, My response is, are they IN something? I looked up from my homework and said, "Lancer, there are snakes on Dalton's bed, could you deal with this?" Lancer was most concerned that he had put them in a food storage container, and punched holes in the top- therefore not reusable. We are so see-through. It is not hard at all to tell the things that matter to us, we are bothered by waste, but it was funny so I got the camera and made the most of this kid moment. By the time we had made all of our discoveries, Jarum had a couple as well, his were stashed in Chloe's hair caddy in the back yard. She's not going to touch that again! She's a little germ-o-phobe. So, all the snakes had names, Dalton named his after Lancer and I, and Jarum named his, Mary and Leigh. It was tough for them to say goodbye, but I told them wild things are happiest in nature and that is where God wants them to be. As far as I know they are all back behind the compost bins in the back yard free, happy, and safe, at least until Dobby discovers them.


These two creations share much of the space on my studio desk at school. They were the first two assignments of the year. It was nice (though expensive) to work with materials I wouldn't normally get to play with. I let them inspire me to remember that I can make beautiful things out of sometimes not so pretty elements. People can be the same way, we don't always show our pretty side, but we are all beautiful when you look at us in the right light.
Before all of our family travels at Christmastime, Chloe, Dalton and I had the priviledge of joining Moscow Community Theatre in the Holiday production of "Babes in Toyland"
It began by Chloe begging to audition for the next play or musical she was eligible for way back in September. She was a real cutie and really put her heart into it. When it came time to fill up the set with large toys and props Dalton joined as a live toy Dragon. Then I became involved when there was a need for a Costume assistant and no one else volunteered to fill the role. Besides, it was clear from the start that I couldn't stay away. When it comes to my kids and the theatre at Christmastime, all the things I love are under one roof, how could I possibly say no?!

This year has held some of the most trying experiences of my life. Holding true to one of my favorite song quotes from the late George Harrison that "For every Mistake we must surely be learning" I should consider myself a well educated lady by the experiences of this year. It is not that I have made many poor choices, but that I have seen many struggles which may have come from previous choices- those made by others and myself, and some which were just the variables of life. In January 2009, my husband's business was unexpectedly closed because of the economic issues happening worldwide. We were fortunate enough to have my school money to live on until he could find employment. The time he had off to spend with our children and to assist me with transportation as I had just broken my ankle was so valuable. I don't know what I would do without him. When people ask me about him, I am one of the lucky few who is able to honestly answer with a beaming smile that I am married to my best friend in the entire world.
Through the Spring semester I had the opportunity to further explore my passion for Recycling and saving the planet by attending the WSRA conference after winning a scholarship provided by them. That was one of the good things. Then we had some good friends who moved away and have had some very difficult struggles. It is hard not to be close to friends when you wish you could fix everything for them, and that next best perfect job still wouldn't come.
In the summer, I had the opportunity to reconnect with some family and enjoy their company. Again it was difficult to live so far away. The economy and the miles seemed to be controlling us, more friends said goodbye and things were difficult.
At fall semester the focus changed to school and being good students, my husband did find work, though it did not pay what we were hoping for, but still we were grateful.
Our son, who has always been a handful of mischief, became the central focus of trouble for a time and made school very difficult to maintain the high grades I am accustomed to easily achieving. The mom requirements became much more important.
Most recently, My Daddy, who has always been the perfect example of a sweet grandfatherly old gentleman, lost his battle with cancer. He was waiting for me, and I made it there after finals just in time to spend one very restless night holding his hand in shifts with my mother and sister and then cooling his fevered brow with my cool hands as he drifted away. That was only two weeks ago. Things seem to have the right priority now. As a Mom, wife, daughter, friend, and a student to save the planet(I can recycle as all of those) I hope I am also a good example of a kind person in all of these roles, just as my Daddy has always been a sweet grandfatherly type old gentleman from the day I was born.
I know it has been a very long time since my last posting. I have been very busy with kids and school and a great deal more travel than I have done in a long time, but it is all okay. I don't know that I have ever been so relieved to see a year come to an end.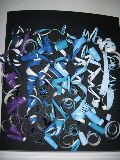 This was our color project for Design class. We had a few preliminary sketches which Dalton now has proudly displayed above his bed, so cute! I always have a hard time letting myself go and enjoying the art of it. My stuff looks very structured and the form is normally very rigid so this was really cool that it turned out so hap-hazard and loose. If it had been dry on the day I turned it in I wouldn't have been as stressed about it. All in all it was a fun project. Because the instructor is now traveling, I still do not know what grade I got in this class and I am trying not to worry about it.
As I mentioned, I don't do the abstract so well, so when we were instructed to create a sculpture with a geometric shape and an organic shape mine still came out looking like something real. The geometric portion includes the L-shaped legs and feet which morph into her body which is holding up the weight of the world. I suppose this lady could represent many women at any stage in life, but really it does reflect a lot of how I have felt within the last year. School has not been difficult but very busy (the kids take a lot of time) especially Jarum who is constantly being rediagnosed, and as I feel having another label placed on his head but no real progress coming from it. Also, last December while playing basketball with my kids I broke my ankle so the large L-shaped feet represent how cumbersome my legs felt and how weighted down I became through the winter. I am also a big greenie so saving the planet is implicated. Some may laugh at my love for the environment and say we can never change things but it is a passion of mine to try. I believe in equal rights for women and people of all cultures. I have a deep compassion for those living in poverteous conditions, therefore this little sculpture represents so much more to me than the design class assignment. I call it "the weight of the world" because I understand that women bear the responsibility for so much of what the family unit survives by. I understand that I am so blessed. I wish I could do more for those who do not have the luxuries which I do of running water and a warm home. I would help them carry if I could the weight they bear in their own lives.

Now I am in a world regional geography class which is somewhat doom and gloom, but ever the optimist I try not to let it get me down and remain grateful for the absolute luxury I have been blessed with in my simple life.
My summer classes are almost over. For the most part I have really enjoyed them. It always seems summer is more intense than other semesters but worth getting some credits out of the way. I finished an Art design class a few weeks ago and wanted to show some of the fun creations as I got to work with some materials I traditionally don't get to play with. One is the paper waterfall and the other is the plaster sculpture finished in a wash and acrylic varnish. Much of it was a learn as you go basis. The class focus on the principles of design rather than teaching us really how to work with the materials so the discovery of it all was really the point. It was fun and very messy!